VUnits Service Packs
The service packs listed below before 2013 are for the old 2009 version of VUnits. Please apply >= 2013 service packs to the new version of VUnits.
VUnits service packs are actually executable databases that contain components that either update VUnits.mdb or its support mda files. When you open the service pack a dialog box will open giving a brief description and a continue button. Clicking the continue button will usually prompt you to browse for the file indicated in the description.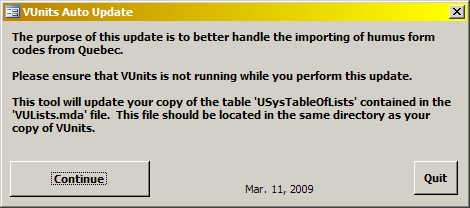 | Service Pack | Date | Description |
| --- | --- | --- |
| VUnitsSpRollup11July2011.zip | July 11, 2011 | Contains code modules that fix issues with VUnits.mdb |
| VUnitsSpSysInfo26July2011.zip | July 26, 2011 | Generates module service information |
| VUnitsSP15Aug2011.zip | Aug. 15, 2011 | Changes to lumping and makes lumping the default on importing |
| VUnitsSP03Nov2011.zip | Nov. 3, 2011 | Changes lumping method to DISTINCTROW from DISTINCT |
| VUnitsSP03Dec2011.zip | Dec. 3, 2011 | Changes to labels and classification systems. Changes to Refs. page breaks |
| VUnitsSP12Dec2011.zip | Dec. 12, 2011 | Changes to English and French labels, changes to option forms |
| VUnitsSP13Dec2011.zip | Dec. 13, 2011 | Changes to table "tblClassificationSystems" |
| VUnitsSP6Jan2012.zip | Jan. 6, 2012 | Lumping module fix? |
| VUnitsSP20Jan2012.zip | Jan. 20, 2012 | Replaces module for generating the veg page |
| VUnitsSP08Feb2012.zip | Feb. 8, 2012 | Replaces module for generating the veg page |
| VUnitsSP28Feb2012.zip | Feb. 28, 2012 | Modules for veg and refs pages |
| VUnitsSP01May2012.zip | May 1, 2012 | Fix the small header on the refs page |
| VUnitsSP17Sept2012.zip | Sept. 17, 2012 | 2 new veg footnotes, new line in refs page |
| VUnitsSP28Sept2012.zip | Sept. 28, 2012 | super script & language changes |
| VUnitsSP01Oct2012.zip | Oct. 1, 2012 | Removes a comma from a French sentence on the refs page |
| VUnitsSP29Oct2012.zip | Oct. 29, 2012 | Fix to pages 3 & 4 & About dialog. |
| VUnitsSP27Nov2013.zip | Nov. 27, 2013 | Fixes picture problems with Excel 2010. |
| VUnitsSP23Apr2015.zip | Apr. 23, 2015 | Changes Forêt ouverte to Terre boisée |
| VUnitsSP28May2015.zip | May 28, 2015 | Pic 2 is now the edatopic grid |
| VUnitsSP10Aug2017.zip | Aug. 10, 2017 | Add a field for Yukon bioclimate data |
| VUnitsSP25Aug2017.zip | Aug. 25, 2017 | Removes use of flex grid |
| VUnitsSP28Aug2017.zip | Aug. 28, 2017 | Fixes a problem on the distribution output page |
| VUnitsSP26Sep2017.zip | Sep. 26, 2017 | Fixes picture problem on site/soil page |